Welcome to Apple Valley High School
AVHS News
Sparktacular Assembly Date Change
Many of you may have received an invite to attend our assembly this Thursday. Due to the predicted wet weather we are going to reschedule this event to 4/5/2018 at 1:25pm. Any rain on Wednesday or Thursday will result in wet bleachers and a muddy track. I apologize to those that may have altered their plans in order to attend. The only venue we have that is large enough for the entire student body is the stadium. Let's hope the weather is better when we return from spring break.
Your Input Is Needed
AVHS is seeking parent and student input for our accreditation self-study. Please click on the appropriate link to give us your feedback. Thank you for your time. Your input is vital to the success of our self-study.
Parent Survey - https://www.surveymonkey.com/r/HYCBGRJ
Spanish Parent Survey - https://www.surveymonkey.com/r/9DS8ZXK
Freshmen Program Offerings 2018-2019
Construction Affecting Drop-off/Pick-up
A construction project will impact arrival and pick-up for all families beginning on 1/8/2018. Upon our return from Winter Break the VISITOR SIDE OF THE STADIUM WILL BE CLOSED. We realize this will add time to our morning arrival. Families that usually use the Visitor Drop-off will need to use one of the other two drop off locations. The home side of the stadium and the south parking lot on Navajo Rd will remain in their normal operation. They will, however, become even more impacted as we reduce our arrival points from three to two.
Unfortunately I do not know the duration of the closure on the Visitor Lot. Once completed, the project will move to the home-side and we will have another inconvenience. Thank you all for your patience and understanding as we go through this process.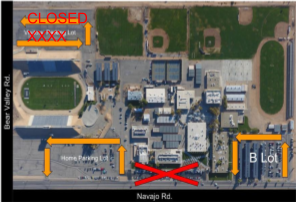 Parent Chromebook/Technology Trainings
If you were unable to attend one of the in-person parent technology meetings, you can complete the training by clicking on one of the links below. There are instructions at the end of the training for signing the paperwork. Paperwork is also available in the front office. Students will not be issued a Chromebook without this completed paperwork. For information on purchasing Chromebook Insurance click here.
Principal's Welcome
Dear AVHS Families,
First of all I would like to "Welcome Back" the 50th graduating class of AVHS- the class of 2018! AVHS has always been a school of rich tradition, deep community relationships, and meaningful and powerful program. This school year will be no different. We will continue to bleed ORANGE, despise green and ring The Bell. I commit, once again, to making this school year the best in the history of AVHS. My goal is to ensure the experience for each and every student is purposeful, meaningful, and enjoyable.
As part of our commitment to students to continually improve their experience, we have a few changes in store for this school year. A couple of our biggest changes will be in the areas of consistency and communication. Our teachers have spent the last year designing classroom and schoolwide expectations that are consistent throughout campus. You will notice the word "SPARK" splashed all over campus. Safe, Proud, Accountable, Respectful, and Kin will be taught, modelled, and rewarded throughout the school year. One of our teachers, Mrs. Celie, said it best at a recent staff meeting. "Too often our students with negative behaviors receive all our time and attention; let's go after the kids that do it right," she said. I could not agree more. Our first public recognition of students that have proven themselves to be SPARKs of our campus will occur on Wednesday, August 16th during an all-school assembly in our stadium. Selected incoming seniors will be recognized with a brand new award to our campus (more information and invites will be coming).
We will begin our school year together on Wednesday, August 9th on a regular bell schedule (7:01-1:54). Please continue to visit our website at avhs.net for updated information regarding events and news here on campus. Also, if you would like to sign up for our text alert system text the code @stuavhs to the number 81010.
Finally, I look forward to serving you and your family as principal of Apple Valley High School. I am honored to hold this position and hold this calling in the highest regard.
Dustin Conrad
Quick Links
Get Connected
Attendance Office
To contact us in order to clear an absence please call 760-247-7206 ext 412. You may also email your information to loretta_hanson@avusd.org. Please include your name, student's name, date of absence and reason for absence.
New Mobile App
AVHS uses the mobile app for Apple Valley Unified School District available for Android and iOS. Search AVUSD in the store or simply click here.
****NEW*** Orange Line effective 01/22/2018
Orange Line Information Student safety is our priority! If you hear of or see anything that concerns you, we welcome you to report it to our text message tip line at: 1-760-813-6286 or email orangeline@avusd.org. Both methods will allow for two-way communication.
Google Classroom Codes
Google Classroom is available to all students. Join your class today for important updates and information. Go to classroom.google.com today and join. Note: You must be logged into your @avusd.org account in order to join!
| | |
| --- | --- |
| Class of 2018 | k6n5pps |
| Class of 2019 | 49taaw |
| Class of 2020 | m6p5pc |
| Class of 2021 | jaa1ys |
| Career Center | sfstgp |
Text Alert SignUp
To sign up for text alerts, text the phrase @stuavhs to the number 81010.
Signing up for this will allow you to receive information via text message directly to your phone. Mr. Conrad invites all parents and students of AVHS to take the time to sign up for this service.
Parent Portal
Parent Portal is available to all students (TK-12). If you want to want to verify your child's data, update contact information, and acknowledge/review district information and policies please log in with your Parent Portal account.
Parent Portal: How do I make a parent/student portal account?
Apple Valley Unified School District provides secure access for parents to information regarding their student via the AVUSD Aeries Parent Portal. There are unsanctioned third party applications that work once parents provide login data. AVUSD cannot verify the security or accuracy of any third party applications. Use these applications at your own risk.
Daily Bulletin
The Daily Bulletin is read every day during 5th period. To view today's bulletin click here.
Bell Schedule
Note: The first day of school Wednesday, August 9, 2017 is NOT an early release day and we will be following the M,T,Th,F schedule.
| | | |
| --- | --- | --- |
| | M, T, Th, F | Wednesday |
| 1 | 7:01-8:00 | 7:01-7:46 |
| 2 | 8:06-9:04 | 7:52-8:37 |
| 3 | 9:10-10:08 | 8:43-9:28 |
| 4 | 10:14-11:12 | 9:34-10:19 |
| 5 | 11:18-12:20 | 10:25-11:13 |
| Lunch | 12:20-12:50 | 11:13-11:43 |
| 6 | 12:56-1:54 | 11:49-12:34 |
Upcoming Events
March 21, 2018

Fundrasier AVID- Carls JR Booklets

March 21, 2018


Track- Weight Room

March 21, 2018 @ 3:30 pm - 5:00 pm
Weight room

March 22, 2018

Fundrasier AVID- Carls JR Booklets

March 22, 2018


FFA meeting

March 22, 2018 @ 6:00 pm - 8:00 pm
library

Girls Basketball Banquet

March 22, 2018 @ 6:00 pm - 8:00 pm
G-2

March 23, 2018

March 24, 2018

Fundrasier AVID- Carls JR Booklets

March 24, 2018


March 25, 2018

Fundrasier AVID- Carls JR Booklets

March 25, 2018


March 26, 2018

Fundrasier AVID- Carls JR Booklets

March 26, 2018


Track- Weight Room

March 26, 2018 @ 3:30 pm - 5:00 pm
Weight room

March 27, 2018

Fundrasier AVID- Carls JR Booklets

March 27, 2018


Track- Weight Room

March 27, 2018 @ 3:30 pm - 5:00 pm
Weight room
Apple Valley High School
11837 Navajo Rd.
Apple Valley, CA 92308
(760) 247-7206